Nonfiction I have loved…
Is it any surprise that I love books?! The honest truth is that, after my mother took me to the library (which was often, bless her!), she let me choose a few from the stack and then hid the rest to dole out so they would last until the next library trip. (Yes, I thought this was quite cruel at the time, but to be fair, it was hard to get me to do anything but read!)
So I am very excited to get to share my favorites — and other WordPlayer's favorites — with you. You can click on a book and learn more about it on Amazon.com, and/or order it if you like.
I'll be adding more books  to this page soon, and creating pages for other categories as well. I'd love to hear which books you think WordPlay writers should read. Please share by emailing info@wordplaynow.com.
CLICK ON  ANY BOOK IMAGE
TO BE TAKEN STRAIGHT TO AMAZON
TO LEARN MORE ABOUT IT AND/OR TO PURCHASE.

BRAIDING SWEETGRASS:
INDIGENOUS WISDOM, SCIENTIFIC KNOWLEDGE AND THE TEACHINGS OF PLANTS

"With deep compassion and graceful prose, botanist and professor of plant ecology Kimmerer (Gathering Moss) encourages readers to consider the ways that our lives and language weave through the natural world. A mesmerizing storyteller, she shares legends from her Potawatomi ancestors to illustrate the culture of gratitude in which we all should live. In such a culture, Everyone knows that gifts will follow the circle of reciprocity and flow back to you again… The grass in the ring is trodden down in a path from gratitude to reciprocity. We dance in a circle, not in a line. Kimmerer recalls the ways that pecans became a symbol of abundance for her ancestors: Feeding guests around the big table recalls the trees' welcome to our ancestors when they were lonesome and tired and so far from home. She reminds readers that we are showered every day with gifts, but they are not meant for us to keep… Our work and our joy is to pass along the gift and to trust that what we put into the universe will always come back."
— From Publishers Weekly

ANGEL WHISKERS: REFLECTIONS ON LOVING
AND LOSING A FELINE COMPANION

"As she did in her previous book about the bond between humans and dogs (Angel Pawprints), Laurel E. Hunt has gathered essays, poems and illustrations that bear witness to the timeless relationship between people and their cats. Contributors to Angel Whiskers: Reflections on Loving and Losing a Feline Companion include Thomas Hardy, Cleveland Amory, Wendy Wasserstein, George Abbee and 28 others, both well-known and not. To help readers grieving over the loss of a favorite feline, Hunt also includes a list of pet-loss resources."
— From Publishers Weekly

G-DOG AND THE HOMEBOYS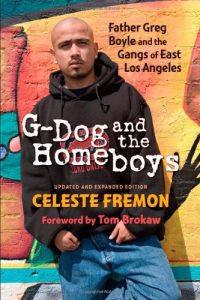 "I first met Father Boyle while reporting on a NBC News documentary on the violent gang scene in Los Angeles….
Operating out of the Dolores Mission Catholic Church in the heart of East L.A., Father Boyle was reciting the funeral Mass for murdered teenagers by day and walking the streets by night, offering solace and guidance to the families of what had become a war zone.
His flock was not confined to the walls of the mission or regular attendance at Sunday services. He was a priest at large to young people called Dreamer, Puppet, and Wicked, to gangs called the Clarence Street Locos and Cuatro Flats. He introduced me to young gang members, some as young as twelve, dressed in the uniform of white T-shirts and black, over-sized work pants and also to those who had grown out of the gangs, the older veteranos….
G-dog was their priest, confidante, tough love counselor, advocate and, most all, their friend, the one they could count on to treat them as people, not as statistics or inmates waiting to happen…."
— Tom Brokaw, in the Foreword

GARDEN OF THE LOST AND ABANDONED:
THE EXTRAORDINARY STORY OF ONE ORDINARY WOMAN AND THE CHILDREN SHE SAVES

"This compassionate portrait of Gladys Kalibbala…[is] heart-wrenching…Kalibbala emerges as a generous soul and fierce advocate…[Yu's] deeply researched personal journalism…[and] intense close-up on her charismatic heroine results in an inspirational narrative."
— From Publishers Weekly