Give yourself time to write in community with others who love words and ideas, and time for solitude, too, with your comfort and safety as a priority.   There'll be ample free time to savor your beautifully appointed private room with king-sized bed, private bath and balcony, the large porches with rocking chairs and swings, and the coastal setting the Sunset Inn provides. You'll return home refreshed, with new ideas and energy for your writing — and your life.
For more about the Sunset Inn, which is a five-minute walk from Sunset Beach and faces a peaceful marsh where herons and cranes live, see www.thesunsetinn.net.
Here's What Author Ann Campanella Says about her Coastal Writing Retreat:

I so loved our time together at the retreat… all of it, every beautiful moment. I feel both refreshed and renewed, my eyes washed with something shiny. Each writing session was like unwrapping a gift. And being in the presence of a gathering of such wonderful souls both "doing" and "being" was so uplifting and affirming. And, of course, the pockets of solitude, the beautiful inn and the nourishment of the sea made for a perfect weekend of renewal and joyous words! Your encouragement and direction, your kindness and authenticity spoke directly to my heart.
COASTAL WRITING RETREAT: Connect with Your Creativity at the Sunset Inn (Writing—and more—as Renewal and Inspiration) 
Renew yourself and reconnect with your own creativity, whether you are a practicing writer, closet writer, or as-yet-to-pick-up-the-pen writer! The techniques and prompts we'll use will spur your imagination, and can be used to create nonfiction, fiction, and/or poetry—the choice is yours.
The Coastal Writing Retreat includes writing sessions at a spacious, private location one mile from the Inn, two nights' lodging, two breakfasts and Saturday lunch.
Want to extend your retreat? If you'd like to stay another day to write, or to just enjoy the beach, the Inn is offering Coastal Writing Retreat participants the opportunity to stay Sunday night at half price.

WHERE: The Sunset Inn, 9 North Shore Dr., Sunset Beach, NC 2846
WHEN: Friday, November 11th – Sunday, November 13th, 2022
COST: $528 (hotel tax and Saturday dinner at a local restaurant not included)
TO REGISTER: Contact the Sunset Inn at 888.575.1001 or 910.575.1000 (if you would like to handpick your room, view your choices here first, then call). Because the Inn is holding rooms for you, our participants, they are blocked off as unavailable online. Register soon by phone – this is a popular event and space is limited.
*Also, please let the Inn know when you call if you are interested in staying Sunday night at half price. The Inn will hold your reservation with a credit card.
You'll need a copy of Spinning Words into Gold, available for $25 at the retreat. If you'd like to order a copy ahead of time, please click the button below to purchase ($3.99 shipping fee and $1.81 state tax will be added).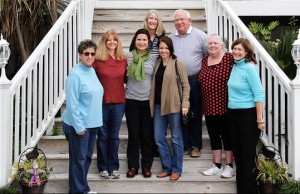 What WordPlayers are saying about the Coastal Writing Retreat –
"I recently had the joy of attending one of Maureen's Coastal Writing Retreats. What an amazing group of kindred spirits I met at the writing table that weekend. For me, it was a perfect setting for making powerful connections – with my writing, with other participants, and with myself."
~ Wendy H. Gill
"I've come full circle with Sunset Beach: the girlfriends who loved me there; a sunlit room where the book dream began; and the waves that roared to their proper place on the front of my book putting the final touches on my dream that became a reality."
~ Carol Injaychock