(Learning the Ins and Outs of Poetry; Strengthening Your Writing Skills; Adding a New Layer of Literary Beauty to Your Life)
Would you like your writing — prose and/or poetry — to be more graceful, powerful, beautiful? Do you sometimes find poetry confusing or intimidating and wish you could "crack the code"? Or do you enjoy writing and reading poems, but want a more thorough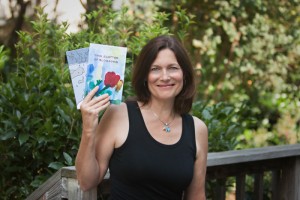 understanding of what makes a poem good? Then this poetry extravaganza is for you.
Expect a good time exploring what makes a poem a poem, gaining the knowledge you need to confidently create and revise poetry, and strengthening your writing skills in all genres.
It would be a joy and an honor to share what rocks about poetry with you!
HERE'S WHAT YOU GET:
23 poetry creation tools, delivered one per day (Monday through Friday) to your inbox. Use them as you get them, use them when you can, use them over and over to create poems.

Each tool zeroes in on one aspect of poetry and provides an innovative method to approach writing a poem. Many of them are great for creating prose, too. Each tool includes:
         1.  a purpose, so you're clear what you will learn
         2.  background information when helpful
         3.  "how-to" directions to create a poem
         4.  an example that illustrates the poetry tool in action
         5.  a short reflection to solidify the concepts covered
         6.  "Hone Your Craft" suggestions for further exploration
A PDF document of each tool that you can print or save on your computer

An audio recording of each tool, so you can learn by listening and/or reading

Instruction on the role of audience, reading like a writer, and the process of revision, including a handy Revision Checkpoint Chart — this information can be applied to strengthen your prose as well as poetry

Additional poetry resources

An e-book that contains the information and resources covered, as well as your 23 poetry creation tools for ongoing use
WHERE: From the comfort of your own home, via the web.
WHEN: Any time you want! And once you receive all 23 tools, they're yours to keep, which means that you can keep using them for years to come.
COST: $45

TO REGISTER: To register for Poetry Rocks online, click here.
Or email info@wordplaynow.com for details on registering by check via mail.
What participants are saying about "Poetry Rocks!" 
"Thank you so much for offering so much of yourself, your wisdom and what you've gathered from a lifetime of reading and writing. It's a well of inspiration and resources that's overflowing, and I know that I will continue to drink from it for many, many years. It's all been so wonderful — and I know it will continue to be — but what stands out for me are your poems and your voice when you read your poetry. It's helped me so much to read my writing out loud — in your voice — it changes everything! 
So for letting me hear your voice in my head, for the gift of reading poetry every day and asking "how does she/he do this?", for filling my tool box with a lifetime of just-the-right-tool (my husband says you can do any job if you have the right tool), and for being a writer whose work bubbles over with words that remind me of this great gift of humanness — thank you!
I look forward to more! When my grandson was very young, I used to sing little songs to him, and when I finished one, he'd look up at me and say "more." That's how I feel about the wonderful work that you give to all of us."
Maureen Ryan Griffin's online Poetry Rocks is a master class in creativity, writing and understanding poetry.   It is exceptionally rewarding, educational, and enjoyable.  It is a celebration of life.  
Each of the 23 separate Tools or lessons that make up the course addresses a different aspect of poetry.  The Tools begin with the fundamental question "what is poetry?.  These are followed by lessons that explore the components of content, form, and sound, and how they fit together to create a poem.   As the student progresses through the course, each new Tool builds upon those that have come before.   The lessons include a written version as well as an audio version, the two of which in combination help clarify concepts and instructions.
In addition to being a series of learning experiences, each lesson includes a "what to do" section that directs the student to create a poem.   Each Tool is therefore an opportunity to learn as well as a prompt or catalyst to create a poem.  For this reason the Tools can be used again and again, long after the course has been completed, to create new poems.  The Tools are designed to be equally helpful to new writers as well as those with more experience. 
Maureen has written and studied poetry all her life, and has a deep love and knowledge of poetry, writing, and teaching.  She provides excellent guidance to her Poetry Rocks students as they play with words, lines and stanzas to create poems.  But she also insists that the writer of the poem be the final arbiter of what goes into it, what is left out, how the poem is structured, and how it sounds.  
In addition to the knowledge it imparts and the poetry it inspires, Poetry Rocks is fun.  Maureen takes a playful approach to writing and teaching that makes this course particularly enjoyable.  Albert Einstein would have agreed with this philosophy when he said "Creativity is intelligence having fun."   And author Mary Lou Cook summed up the approach well when she said "Creativity is inventing, experimenting, growing, taking risks, breaking rules, making mistakes, and having fun." 
~ Bud Thomas