Fiction I have loved…
Is it any surprise that I love books?! The honest truth is that, after my mother took me to the library (which was often, bless her), she let me choose a few from the stack and then hid the rest to dole out so they would last until the next library trip. (Yes, I thought this was quite cruel at the time, but to be fair, it was hard to get me to do anything but read.)
So I am very excited to share a few of my favorites novels—and other WordPlayer's favorites—with you. You can click on any book and learn more about it on Amazon.com, and and/or order it if you like. (Thank you in advance should you do that, as the folks at Amazon will give me a few cents for telling you about it.)
And I'd love to hear which writing novels you think WordPlay writers should read.
Please share your favorites by emailing info@wordplaynow.com..
CLICK ON  ANY BOOK IMAGE
TO BE TAKEN STRAIGHT TO AMAZON
TO LEARN MORE ABOUT IT AND/OR TO PURCHASE.
THE BOOK THAT MATTERS MOST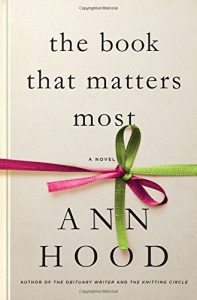 "Ann Hood's eye for the absurd, her masterful prose and vivid characters instantly draw you into this compelling story about mothers and daughters, husbands and wives, friends and lovers. But it's the delicate exploration of human fallibility – of love, loss, regret and redemption that make this one of those rare and wonderful books that truly matter."
— Ann Leary, New York Times bestselling author of The Good House
A ROOM WITH A VIEW

One of E. M. Forster's most celebrated novels, A Room With a View is the story of a young English middle-class girl, Lucy Honeychurch. While vacationing in Italy, Lucy meets and is wooed by two gentlemen, George Emerson and Cecil Vyse. After turning down Cecil Vyse's marriage proposals twice Lucy finally accepts. Upon hearing of the engagement George protests and confesses his true love for Lucy. Lucy is torn between the choice of marrying Cecil, who is a more socially acceptable mate, and George who she knows will bring her true happiness. A Room With a View is a tale of classic human struggles such as the choice between social acceptance or true love.
"EM Forster's A Room with a View was my first intimation of the possibilities of fiction: how wholly one might feel for it and through it, how much it could do to you. I felt it was very good and that the reading of it had done me some good. I loved it."
— Zadie Smith
My favorite quote: My father says that there is only one perfect view — the view of the sky straight over our heads, and that all these views on earth are but bungled copies of it."
— Maureen, WordPlay facilitator

THE ACCIDENTAL TOURIST

"Hilarious . . . and touching . . . Anne Tyler is a wise and perceptive writer with a warm understanding of human foibles."
—St. Louis Post-Dispatch 
My favorite quote: "I'm beginning to think that maybe it's not just how much you love someone. Maybe what matters is who you are when you're with them."
— Maureen, WordPlay facilitator
These next two books are companion books meant, according to author Rachel Joyce, to be read "side by side." (Read Rachel Joyce's article "My unexpected followup to The Unlikely Pilgrimage of Harold Fry" here.) And here for an interview with Rachel Joyce on writing these books.
I am fortunate to be in a book club started by my friend Wendy Gill. Once a year, each of us makes recommendations for the other members to vote on. Often, our pitches get a bit fervent, and that was certainly the case with The Unlikely Pilgrimage of Harold Fry. We enjoyed it—and the conversation that ensued—so much, that we chose to make room in our schedule to follow it up with her recent The Love Story of Miss Queenie Hennessy.They are both book lovers' dreams, in my opinion. How could you not love a book that weaves in words and images from famous literature, including T. S. Eliot's "The Love Song of J. Alfred Prufrock"? Both of Joyce's books are a study in what it is to be human, with humor, pathos, compassion, companionship, and grief woven throughout.
THE UNLIKELY PILGRIMAGE OF HAROLD FRY
Recommended by WordPlayer Wendy Gill, who loves it so much
she suggested it to her second book club after she read it with her first…

"When it seems almost too late, Harold Fry opens his battered heart and lets the world rush in. This funny, poignant story about an ordinary man on an extraordinary journey moved and inspired me."
—Nancy Horan, author of Loving Frank
My favorite quote: "He had learned that it was the smallness of people that filled him with wonder and tenderness, and the loneliness of that too. The world was made up of people putting one foot in front of the other; and a life might appear ordinary simply because the person living it had been doing it for a long time. Harold could no longer pass a stranger without acknowledging the truth that everyone was the same, and also unique; and that this was the dilemma of being human."
— Maureen, WordPlay facilitator
THE LOVE SONG OF MISS QUEENIE HENNESSY

"In the end, this lovely book is full of joy. Much more than the story of a woman's enduring love for an ordinary, flawed man, it's an ode to messy, imperfect, glorious, unsung humanity. . . . [Queenie's] love song is for us. Thank you, Rachel Joyce."
                                                                                                                       —The Washington Post 
My favorite quote: "All these years I thought a piece of my life was missing. But it was there all along. It was there when I sat beside you in your car and you began to drive. It was there when I sang backwards and you laughed or I made a picnic and you ate every crumb. It was there when you told me you liked my brown suit, when you opened the door for me, when you asked once if I would like to take the long road home. It came later in my garden. When I looked at the sun and saw it glow on my hands. When a rosebud appeared where there had not been one before. It was in the people who stopped and talked of this and that over the garden wall.
And just when I thought my life was done, it came time and time again at the hospice. It has been everywhere, my happiness—when my mother sang for me to dance, when my father took my hand to keep me safe—but it was such a small, plain thing that I mistook it for something ordinary and failed to see. We expect our happiness to come with a sign and bells, but it doesn't."
                                         — Maureen, WordPlay facilitator
THINGS WE SET ON FIRE
Recommended by WordPlayer Cydne Watterson.


"What a finely made, complex, and wholly engrossing novel this is. The people who inhabit Things We Set on Fire seem to be squeezed into some catastrophic critical mass, like the Big Bang in reverse, and yet the prose is completely under control, precise and lucid, sometimes electric with nuance, sometimes strangely musical, and always convincing. The moral pressures on these characters become almost unbearable, yet the radiance of grace and pardon and understanding shines on. Reed has given us a beautiful book."
—Tim O'Brien, National Book Award winner and author of The Things They Carried
My favorite quote: "It was all laid out before her now, the whole messy past, and she'd done everything in her power to put things right. No doubt she'd come up short, and that, she believed, was what it meant to be alive. The absence of answers and perfection allowed for the wonder, mistakes for tripping trap doors to the glimmering unforeseen."
— Maureen, WordPlay facilitator
THE REMAINS OF THE DAY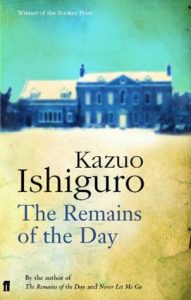 THE HISTORY OF LOVE


—