Meet Patrice Gopo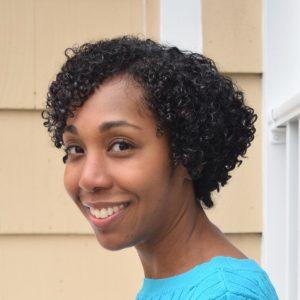 Patrice Gopo is the child of Jamaican immigrants and was born and raised in Anchorage, Alaska. Her essays have appeared in a variety of publications, including Creative Nonfiction, Gulf Coast, Full Grown People, and online in The New York Times and The Washington Post. Her radio commentaries have appeared on Charlotte, North Carolina's NPR Station WFAE 90.7. Patrice lives with her family in Charlotte, and she is at work on a collection of essays.
---
A Sample of Patrice's Writing
The Broken Umbrella
by
Patrice Gopo

You were standing at the bus stop, your left arm holding a broken umbrella above your head. Streams of water swirled and splashed around what I imagined were your drenched shoes. The raised arm seemed like some strange rain ritual since the illusion of defense was no competition for the downpour smacking the sidewalk. Your face revealed a withered expression as your head turned anticipating the arrival of the bus. The road snaked ahead of you, empty.
At that moment, I think we both realized this road was closed. You stepped off the sidewalk, crossing the street just as I turned my car, now understanding I needed to make an alternate plan to get my baby girl home.
I wanted to stop. I wanted to offer you a ride, but I didn't. Rules had been embedded in my mind long ago: never, never give a strange man a ride. Never, never. I glanced back at my daughter napping in her car seat, oblivious to the fog her soft inhales and exhales made on the back window. Her child dreams appeared immune to my momentary conflict about breaking the familiar rules. Watching her chest rise, however, cemented my never, never. As a responsible mother I had to enforce the rules for her sake.
I looked straight past you. I drove away not wanting to glance out my rear view mirror, trying to avoid the drops of guilt threatening to pelt my mind. However, I knew it was too late, and those guilty feelings already saturated my every thought. With nearly the same conviction I had that the downpour would eventually stop, I also believe it would have been fine to ask. I consider myself to be a good judge of people and life. And yet, not always. So, I left.
Due to the pounding rain and unexpected detour, my journey home took three times as long. The damp, musty scent of water-soaked earth penetrated the shell of my car, while thoughts of you consumed me like rumbles of thunder. I thought about how I couldn't even offer you a ride in a dry car because of fear; fear planted in my head by well-intentioned and legitimate warnings that held my decisions captive. Instead, I watched you walk away under a useless umbrella, while I sat inside my locked throne, carrying my useless charity.
I wonder if you were thinking the same thing. If you wanted to ask me for a ride but then remembered the rules of our world where you don't know me, and I don't know you and thus we can't trust each other. I'm sorry. I should have stopped, but I didn't. I wanted to stop, but I couldn't. All I can offer you are hollow words of apology.
From a woman in a broken society to a man with a broken umbrella.
---
 What Patrice says about WordPlay
"When I moved to Charlotte almost six years ago, I had been writing a little over a year. The words were filling pages of my spiral bound notebook, but I didn't know where to go next or what to do with my work. A Google search landed me at WordPlay's website. I signed up for Maureen's Summer Solstice retreat, then her class on writing micro essays, then her class on writing as a healing process, then her Under Construction class… Well, you get the idea. Aside from being filled with wonderful writing information, inspirational prompts and encouraging words, I like to think that Maureen helped me stand on my writing legs. I arrived in her class with wobbly limbs, unsure if what I did counted as writing or even mattered. Maureen's affirmations about my work strengthened those shaky writing legs. She helped give me confidence to stand tall and believe that I am a writer.
These days with two small girls, I don't take nearly as many classes as I used to, but I still regularly reference Spinning Words Into Gold. I often submit my work for publication, and I am happy to say that I have accumulated a few acceptances woven in with a string of rejections. Of course the acceptances are exciting, but I still revel in the fact that this once wobbly-legged writer feels confident enough to submit her work. Every time I submit an essay, I celebrate just as I believe Maureen would want me to!."