Meet Pat Veasey

Patricia Veasey is an independent scholar with an interest in Southern women's history, especially the education of women before the Civil War. She presented papers and published articles about that topic throughout the southeast. In 2014 the Culture and Heritage Museums of York County honored her as a Keeper of the Culture. Her biography of Catharine Stratton Ladd was the result of two decades of research, lecturing, and writing.
Pat, with her husband Ed, and their dog Pearlea, live near Clover, South Carolina. They enjoy hiking, bicycling, and bird watching in state and national parks.
---
A Sample of Pat's Writing
An excerpt from the Author's Notes of
A Relentless Spirit, Catharine Ladd:
Southern Educator, Entrepreneur, and Author, 1808-1899
by
Pat Veasey
Whereas many facts about Catharine Ladd's life are irretrievable, what is clear from the available information is her relentless spirit in the face of loss and gender prejudices of her time. She proceeded forward in providing an education for young women, in building community, and in supporting the arts, especially in literature and the theatre. I discovered a Catharine with high energy and a sharp wit who, for one example, founded a drama troupe, produced and wrote plays, designed scenery, and painted the scenery herself. From the onset, the question was whether to attempt a biography of a person with few sources for documenting her life, yet not lose her story as an important chapter in the history of remarkable Southern women.
Her circumstances of loss were known. In February 1865, at the end of the war, Catharine Ladd's house in Winnsboro, South Carolina, burned at the hands of Union troops under Brigadier General Slocum. She had been widowed the previous year, and now had no place for her family to live. She had six children: two daughters at home, one daughter in Florida staying with friends while recovering from illness, and three sons away at war. Her writings of over thirty years were gone, as were all paper documents of records including those of operating a school, teaching materials, books, letters, and whatever possessions she and her husband, George, accumulated over a lifetime. As was the case throughout the South, evidence of her past life was gone. Nonetheless, family oral history about George and Catharine Ladd fascinated me and prompted me to know their story, especially that of Catharine before the war. I was not discouraged, so like Catharine, I relentlessly forged ahead. It was an extended research journey of two decades.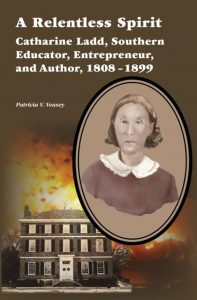 ---
 What Pat says about WordPlay
"I met Maureen when I signed up for her writing class, "Write Like a Genius" at the John C. Campbell Folk School, Brasstown, North Carolina in the summer of 2016. That class was an experience that set me on course with enthusiasm and a desire for more! At Campbell Folk School I discovered that Maureen lived in Charlotte and taught writing classes; so, I signed up for a class in the fall of 2016. Maureen encouraged me to use the research I had done on Catharine Ladd to write a novel of historical fiction. I worked in this genre for more than a year, continuing in class and working with peer reviews from classmate groups. Everything seemed pointed in the direction of historical fiction, but a voice told me not to abandon the non-fiction biography of her life. I had several decades of research time behind me, but needed help with turning it into a readable piece.
Last year I decided to ask Maureen if she would be my editor and help me publish a biography through her Floating Leaf Press in Charlotte, North Carolina. She agreed and led the way to completion.
She taught me the craft of writing. Her enthusiasm, imagination, and positive force gave me the energy and belief to envision this biography. Maureen especially motivated me to consider the audience and readability factors in the manuscript. Without her, the story of Catharine Ladd would still be just an idea. Thank you Maureen!
Mary Charles Nash, a local artist, created the cover, using an image of Catharine Ladd that interpreted her life."