SPINNING WORDS INTO GOLD (Fulfilling Writing Dreams and Goals; Creating New Writing; Revising and Polishing Your Writing)

Does writing fulfill you? Do you wish you were writing more? Jumpstart your writing life and learn to keep your words flowing. Learn specific techniques and exercises to create nonfiction, poetry and/or fiction. Whether you would like to keep a journal for your own personal growth, spin stories for your loved ones, or further a career as a professional writer, experience the satisfaction of developing a writing practice that works for you—come spin words into gold.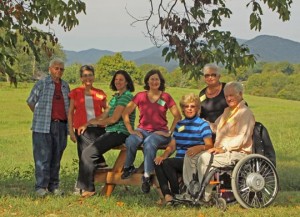 In the community room after our reading                  Outside the writing studio (What a view!)
WHERE: John Campbell Folk School. 1 Folk School Road, Brasstown, NC 28902
WHEN: Sunday, May 6th through Saturday, May 12th, 2018
COST: $630
TO REGISTER:  To register, click this link to be taken to the John Campbell Folk School website to register.
You'll need a copy of

Spinning Words into Gold, available for $25
What WordPlayers are saying about "Spinning Words Into Gold" 
"I attended Maureen's class—Spinning Words into Gold—in October, 2011 at the John C. Campbell Folk School. Although I have written volumes over the years as a teacher and academic administrator, this class opened doors for me to new, creative, and imaginative ways to approach writing. I don't think I will ever be able to write or read the "old way" again. Thanks, Maureen—the new way is a lot more fun."
~ Russell Baskett
"Everything you do is perfect," insisted Maureen Ryan Griffin, my writing teacher at John C. Campbell Folk School last September. During the week, we learned to "Sprint," to "Gather," to "Sprawl," to write dialogue, to ask questions, to list, to "Leapfrog" off another's work, and much more. If you haven't seen Maureen's excellent book Spinning Words into Gold, check it out. It's full of great writing advice and exercises. Thanks to Maureen and the other participants for making the folk school class so special for me."
~ Lyn Hopper
Photographs courtesy of Frederike Gravenstein