WordPlay Classes, Workshops & Retreats
 Upcoming WordPlay offerings are listed chronologically below, in order of start date. To learn more about an offering, click its title.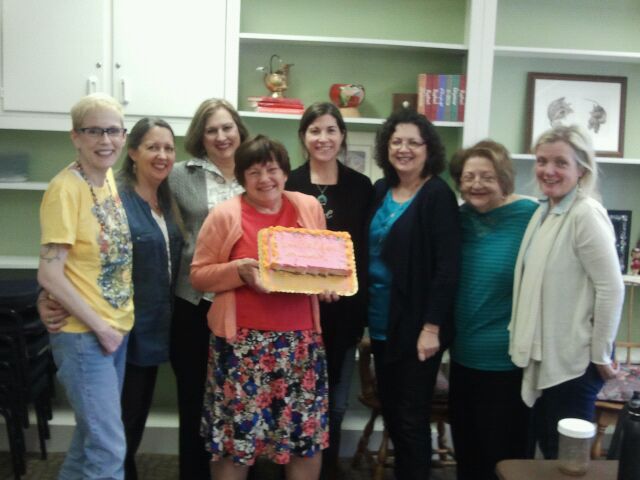 A "Gift of Memoir" class celebrates their writing accomplishments.
WordPlay Offerings

Date(s)

Time

Location

Cost

Registration Information

THE ART AND CRAFT OF POLISHING A POEM

(Poetry Master Class)

Saturday,
November 3rd,
2018
 9:00 a.m.
to
4:00 p.m.
Hilton Charlotte University Place.
8629 JM Keynes Drive.
Charlotte, NC 28262
This class is offered as part of The North Carolina Writers' Network 2018 Fall Conference.
Cost varies based on membership, meals and the number of days you'd like to participate.
To register please visit
The North Carolina Writers' Network 2018 Fall Conference website.

(Writing—and more—as Renewal and Inspiration)

Friday,
November 9th –
Sunday, November 11th, 2018.
The Sunset Inn
9 North Shore Dr., Sunset Beach, NC 28468
$458
(plus tax) for the retreat, lodging and some meals
Please contact the Sunset Inn directly at 888.575.1001 or 910.575.1000. If you would like to handpick your room, view your choices here first, then call.

UNDER CONSTRUCTION
(Wednesday morning classes)

(Fulfilling Writing Dreams & Goals; Creating New Writing; Revising & Polishing Your Writing)

Wednesdays, starting in January, 2019.
10:00 a.m.
to
noon
Covenant Presbyterian Recreation Center
1000 E. Morehead, Charlotte, NC 28204
$435/
12 sessions
Please email us at info@wordplaynow.com to start the registration process by filling out a short "Clarity Tool" to share your writing dreams and goals and where you are in the process. (Anywhere you are is a perfect place to begin.)
Any day! Sign up whenever you'd like and you'll start receiving your Poetry Rocks poetry tools the next weekday.
Any time!
Any place!
$45
To register, please click this link to pay through PayPal. For more information, or to pay via check, please email us at info@wordplaynow.com.
Sunday, May 26th – Saturday, June 1st, 2019
John Campbell Folk School.
1 Folk School Road.
Brasstown, NC 28902
$630
Registration for this class hasn't opened yet. Please check back in 2019 for details.