Meet Clara Barnes Link

Clara Barnes Link has lived on Lake Norman in North Carolina with her husband, Eddie, for over thirty years. They have raised four children, along with several dogs, cats, fish, and one lone gerbil. After many years of homeschooling, Clara now devotes her time to writing, quilting, and playing the cello.
Here's what Clara has to say about her first children's book—based on a very special member of their family, Amber—now available on Amazon.
Amber the Boxer Dog has taken about a year to complete. For a long time, I had considered making a book out of a collection of photos that my husband had taken of our dog, Amber. The humorous shots had always made our friends and family laugh, but it wasn't until I seriously undertook the project by laying out the photos on my worktable that I began to get a specific idea for the story. Now, after overcoming many challenges during the process, I am very excited to be publishing my first book.
For more details about Amber the Boxer Dog, visit Clara's website, www.ambertheboxerdog.com.
---
A Sample of Clara's Writing
by
Clara Barnes Link

Meet Amber the Boxer Dog, who came to live with Clara and her family seven years ago, when she was just a puppy.
Here's what she had to say soon after she arrived: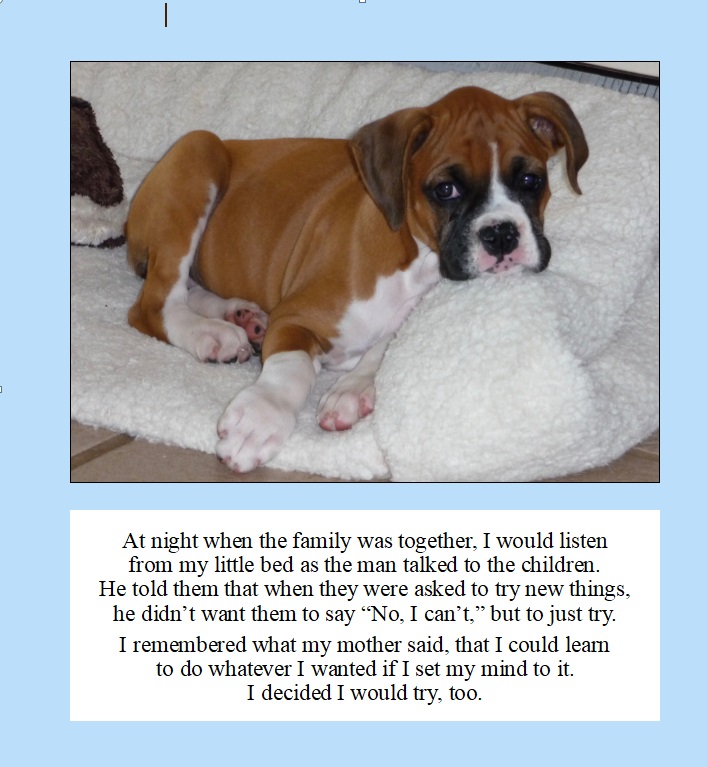 And here are just a few of the things she tried: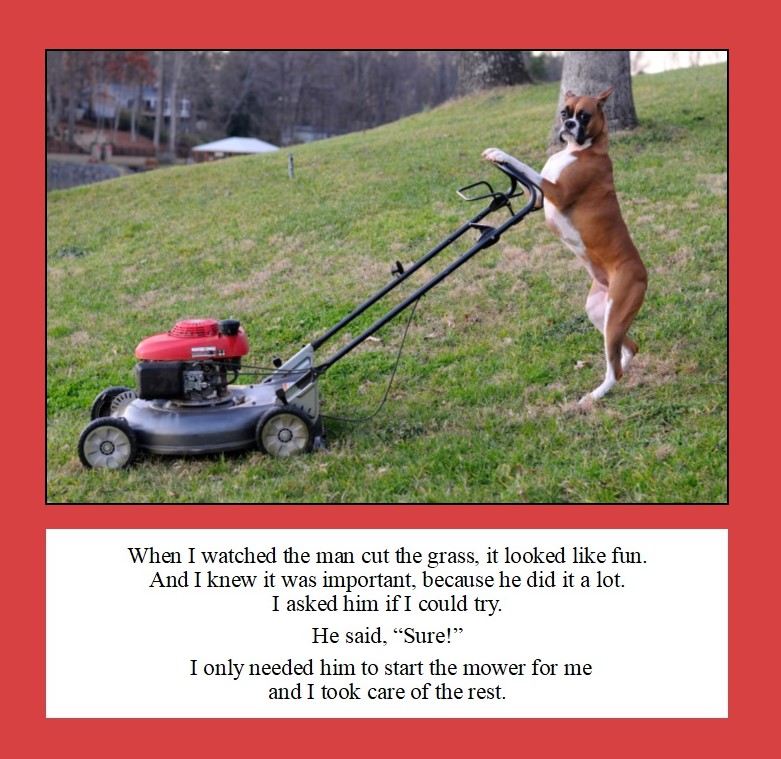 Amber went on to get her diploma through homeschooling and online classes, and you won't believe what she got for a graduation gift!
To find out, and to see what other amazing things she accomplished because she tried, order a copy of Amber the Boxer Dog here.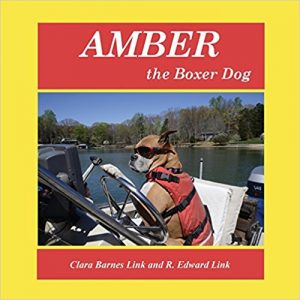 ---
 What Clara says about WordPlay
"Five years ago, when I walked into Maureen's WordPlay classes, I immediately felt welcomed, as if meeting up with old friends. Maureen, especially, made me feel at ease and comfortable. She and the other students were accepting of me, one of the newbies, and there was only encouragement as I began learning how to put words on a page.
Maureen is a very caring and inspiring person, offering her students a variety of ways to aid them in excelling as writers, as well as a safe environment in which to share their work. Her teaching ability, her valuable and tactful insight and advice, and her experience as a published writer have all contributed to helping her students produce wonderful pieces of writing. I have been fortunate to accomplish work that I didn't think would be possible, due to Maureen's instruction."