Meet Bridgett Bell Langson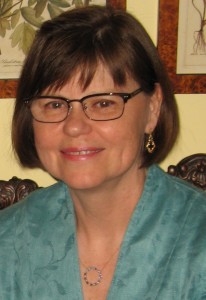 Before she became a writer, Bridgett Bell Langson taught children in public schools in North Carolina in both special education resource and elementary classrooms. After several years of teaching, she applied and was selected to participate in the UNC Charlotte Writing Project for teachers. Following this, along with continuing as a classroom teacher, she trained other teachers in methods of writing instruction for their students. After retiring from teaching, she has pursued her dream of being a published author of children's books by participating in a number of Under Construction classes. She is now pursuing publication of her first children's book, Finding Home, a first person tale narrated by a feisty, lovable puppy named Bandit.
Both of her sons are grown and she lives in Charlotte with her husband and two dogs—yes, one of them is named Bandit.
Connect with Bridgett on Facebook
here
.
---
A Sample of Bridgett's Writing
One More Sunrise
by
Bridgett Bell Langson

The call. "Come home. Your Dad's been hospitalized."
I knew what this summons meant. At fifty-four, he had been fighting metastasized cancer for over a year.
The details of buying a plane ticket, making lesson plans for the days I'd miss, getting to the airport, flying home, getting to the hospital—all are gone from my memory.
What I do recall is, once I was there, peeking into his room. There was my dad in the plain hospital bed, the white sheet tucked around his body, his arms and still large hands on top. He was breathing, but in a coma. I had expected, counted on, wanted one last conversation with my father.
I turned from the doorway and rushed to find a hospital phone. Calling collect to the man I was dating and would one day marry, I cried into the receiver, "My dad's still alive, but he's already left me."
Never again would I hear my father's deep voice, or his wholehearted laugh.
When I arrived in his room, my three sisters, who had been keeping watch, went home to shower, to sleep.
Staying the night vigil with my dear mom, we held Dad's once strong hands, wiped his forehead. Talked to him. Whispered to each other. Mom told me, "The last words Dad spoke were, 'One more sunrise and then I'm crossing the river.' "
Morning? Would he be with us that long? Throughout the night we swabbed his dry mouth with a dampened sponge on a stick.
A month earlier I had gone home to visit Dad and help Mom. Sitting on the porch, Dad comforted and reassured me. He had accepted his fate. He had done so much it was as if he had lived several lives already.
My father was a Renaissance man. Though he was a white-collar industrial engineer, he could fix and build anything and grow everything. At twenty-two he designed and constructed his and Mom's first house. He pulled out engines from cars and rebuilt them. He dug up suburban soil to plant large gardens.
Holidays? He helped make all of them a huge production. He invented and made his famous Thanksgiving stuffing, and baked the Christmas cookies with us girls. Having served in the Army, he loved the Fourth of July—cookouts, parades, fireworks.
He read voraciously, was witty and just plain fun. A big man with a quick temper, yet he had a soft heart. Many a time he'd shed a tear over a sad news story. He lived and loved large. And now, here I was with Mom, keeping a final vigil.
Needing to stretch, I let go of Dad's hand to stand. I walked over to the hospital window just as the sun broke the horizon, smearing pink and yellow streaks.
"Mom, it's morning," I said. And in that moment, my dad, with Mom clasping his hand, died.
I walked back to my dad's body and held his other hand while Mom and I prayed aloud.
My dad. Gone.
He taught me to ride a bike, to give a savvy Girl Scout cookie pitch, to throw a softball, to plant tomatoes, to set up a tent, to change the oil in my car. He taught me to have courage and to be myself.
These infrequent mornings when I watch the daybreak from my kitchen window, I think back to my father's last sunrise and the gift he gave by being totally himself.
Daddy, these thirty-three years later, I still miss you. Every day.
---
 What Bridgett says about WordPlay
"A number of years ago, I met Maureen at a Girl Scout camp reunion. Although a mutual friend raved about her as both a writer and a teacher of writing, I was skeptical. Instead of jumping in feet first, I tiptoed into the waters of writing by taking a two-hour "sample class" of Maureen's. My friend was right.
Since then I have taken a variety of WordPlay writing workshops, including many semester-long classes. I can now say that I am immersed in the waters of writing.
One of my pieces, The Best Gift, was published online in The Charlotte Observer. Also, I have an essay in the anthology Imagining Heaven and a story about my dog, Bandit, in the Charlotte Dogs Anthology.
My tale, 'Bandit and the Bone,' won second place in a children's writing contest held by the Charlotte Writers' Club.
Winning this award and participating in Maureen's weekly classes inspired me to write four children's books with Bandit as the main character. But I have been treading water too long and have yet to submit my finished first book to publishers. Maureen and I have made a pact that with my completing the necessary work and with her throwing me a life buoy, I will get Finding Home submitted to book companies by the end of this summer."