THE GIFT OF MEMOIR: WRITING PERSONAL AND FAMILY STORIES (Preserving Family History; Writing for and about Your Family; The Art of Memoir)
Our life stories are a precious legacy. Putting them in writing is a gift to all who know and love us—they can be treasured and enjoyed for generations to come. It is also a gift to ourselves. As best-selling author Rachel Naomi Remen says in her book Kitchen Table Wisdom, facts bring us to knowledge, but stories bring us to wisdom. If you are interested in writing family and/or personal life stories—those significant tales of adventure, transition, love, loss, and triumph, as well as lovely everyday moments from times past or the present, come learn specific tools and techniques to retrieve and record them.
* For the benefit of participants, an audio recording of the class will be made each week so that participants are able to listen to classes they miss and/or review material covered at any convenient time and place. These recordings are available throughout the class session, along with all handouts, in a shared Dropbox folder.
WHERE: Covenant Presbyterian Recreation Center, 1000 East Morehead Street, Charlotte, 28204. Click here for map.
WHEN: Thursday mornings from 10:00 a.m. – noon.
     September 6 and 20
     October 4, 18 and 25
     November 8 and 29
     December 13
COST:  $285
TO REGISTER: Please email us at info@wordplaynow.com to start the registration process by filling out a short "Clarity Tool" to share your writing dreams and goals and where you are in the process. (Anywhere you are is a perfect place to begin.)
You'll need a copy of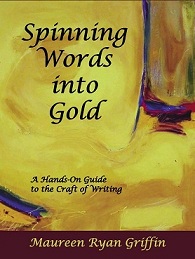 Spinning Words into Gold, available for $23.54
in class.
If you'd like to order a copy ahead of time, please click the button below to purchase ($3.99 shipping fee will be added).
What WordPlayers are saying about "Gift of Memoir" –
"I was super excited but a bit nervous about writing in front of others. Turns out the intimate smaller group setting and Maureen's energetic yet calming personality made for a perfect fit. The Gift of Memoir sessions boosted my confidence in my writing ability, which then led me to dust off a children's picture book idea that I'd been sitting on for quite some time. After class one day, I approached Maureen and asked if she offered editing services for manuscripts, and as luck would have it, she did. Over the next year, I worked with Maureen on my manuscript. She challenged me to reword, revise, revisit, and sometimes even rewrite. Her help was immeasurable. Two short years later, I have self-published my first children's picture book, Lost Soles."
~ Jennifer Larson