Welcome to WordPlay!
I'm Maureen Ryan Griffin,
and I created my programs, products, and services
to support your writing goals and dreams.
What writing project would you love to complete?
What writing dream could come true?
What support could make a difference?
What are you waiting for?
To find out more about the  programs I offer, please:
Click here for current WordPlay offerings.
Click here for workshops to serve your group or organization.
Click here to see/hear one of my poems from my latest poetry book
featured on Garrison Keillor's The Writer's Almanac.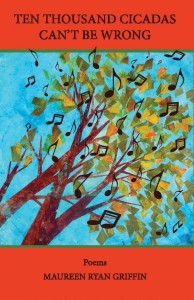 Here's my latest writing dream, published December 2014
Find out more here.
HERE'S HOW TO REACH WORDPLAY:
MAIL
6420 A-1 Rea Road, Suite 218 * Charlotte, NC 28277
PHONE
704-494-9961
WordPlay * 6420 A-1 Rea Road, Suite 218 * Charlotte, NC 28277
* Phone: 704.494.9961 * Email: info@wordplaynow.com
www.wordplaynow.com
© 2013 Maureen Ryan Griffin's WordPlay. All rights reserved.