Meet Justin Hunt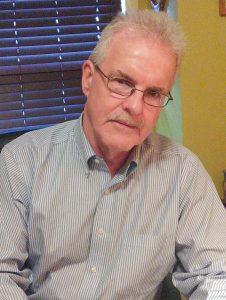 A native of rural Kansas, Justin Hunt lives in Charlotte, NC. In 2012, he retired from a long business career to write poetry and memoir. His work has won several awards and appears in a number of literary journals and contest-based collections, including The Atlanta Review, Comstock Review, Dogwood, Spoon River Poetry Review, Kakalak, Kansas City Voices and What Matters, among others.
Check out Justin's website here: https://www.justinhunt.online/.
---
A Sample of Justin's Writing
My Mother, My Father
by
Justin Hunt

First published in The Freshwater Review, College of St. Scholastica, Spring 2015.
Published online at WinningWriters.com, April 2016, as Honorable Mention in the 2015 Tom Howard/Margaret Reid Poetry Contest.
---
 What Justin says about WordPlay
"In the summer of 2012, I walked away from a career in the corporate world. I was sixty-two. For decades, I'd put in long hours, sixty or more a week. For decades, I'd written nothing of a personal nature except letters and emails to friends and family. And yet, a voice inside me wanted out—a voice shaped by having lived long enough to embrace love, suffer great loss and feel the creep of my own mortality. When I was at last able to retire, I did so with the intention of writing poetry and memoir. But I nursed doubts. Could I do it? If so, how would I do it? And would anyone want to read it?
I joined two poetry critique groups as soon as I quit my job. In the fall of 2012 and spring of 2013, I enrolled in memoir writing classes at Queens University. I learned that I had much to learn. I learned also that the story of my father and my relationship with him wouldn't let go of me. It was the subject that kept surfacing in the short prose pieces I was cobbling together, and by the summer of 2013, I began to suspect I might have a full-length memoir on my hands—if only I could summon the energy and discipline to write it.
That same summer, I took a one-evening class with Maureen Ryan Griffin and spoke with her about signing up for the fall session of Under Construction. It seemed like the right vehicle for me, but I still wrestled with the belief that I should be inspired and committed enough to write on my own. I should just write what I wanted to write, I thought, then turn my work over to an editor. But as the summer wore on and I wasn't writing much, I surrendered and signed up. It was, in retrospect, a damn good thing I did.
With the exception of one summer, I've been writing with an Under Construction group ever since. It didn't take me long to discover that I work best within UC's structure. Knowing that each piece I bring in will be reviewed not only by Maureen but also a group of committed, talented writers is a huge motivation for me. I'm not working in a vacuum, and hearing and critiquing the work of others informs my own.
At this point, I've taken enough dead-end turns to know that feedback from other writers is essential to my creative process—while I'm working on something, not just at the end of a manuscript. If this is a weakness, as I once thought it was, then I'm a 97-pound weakling, and I need the workouts Maureen administers with her keen eye for inconsistency and her ability—and willingness—to expose language that is so florid, flat or flabby, it begs for extra hours in the gym.
Earlier this year, I finished the manuscript of Dominoes Are Played at Joe's Place, the memoir about my dad and me. I've shared sections of the book with people from various walks of life, and they're asking for the rest of the story. I'm encouraged, though cautious, aware that a lot of hard work still lies ahead.
I've reorganized Dominoes to improve flow, and I'm now working through the entire book, revising it chapter by chapter. Without the support and critique of Maureen and my fellow writers in Under Construction, I wouldn't be where I am today. I wouldn't have a manuscript to fine-tune.
I continue to use our UC group as a sounding board for the more challenging revisions I'm making. Each time we meet, my blind spots are revealed. Each time we meet, I learn something—despite my age. How can you put a price on that?"