About Morgan Sprinkle

My name is Morgan Sprinkle. Yup. Sprinkle.
I'm a wife and a new mom. I'm a teacher, hiker, camper, fresh-air lover, infrequent and embarrassingly slow runner, DIYer, reader, baby-sign-language aficionado and number one fan of the Atlanta Braves.
This year I decided to resign from teaching to stay at home with my son, and Maureen is helping to make that possible by employing me as her operations manager. I help her schedule classes and organize registrations. I keep the website and databases up-to-date. And I respond to emails (so you'll be hearing from me when you email us) and keep her bevy of writers informed about current WordPlay opportunities. My left brain, with its spreadsheets, laser focus and streamlined approaches meshes nicely with Maureen's creative, always-always-always thinking right brain. Together, we make a pretty great pair. I'm lucky to be her "Morganizer."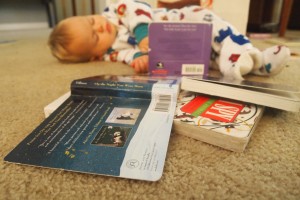 And just to prove that I'm keeping a legacy of literacy alive with my little man, here are a couple pictures of my son, surrounded by his books. He loves laying on the floor of our living room, "reading" silently to himself. If only they didn't put him to sleep…
I'm thankful for the opportunity to work for Maureen, and in the process, meet her inspiring and immensely talented clients and friends.